11 Important Vegans To Follow On Social Media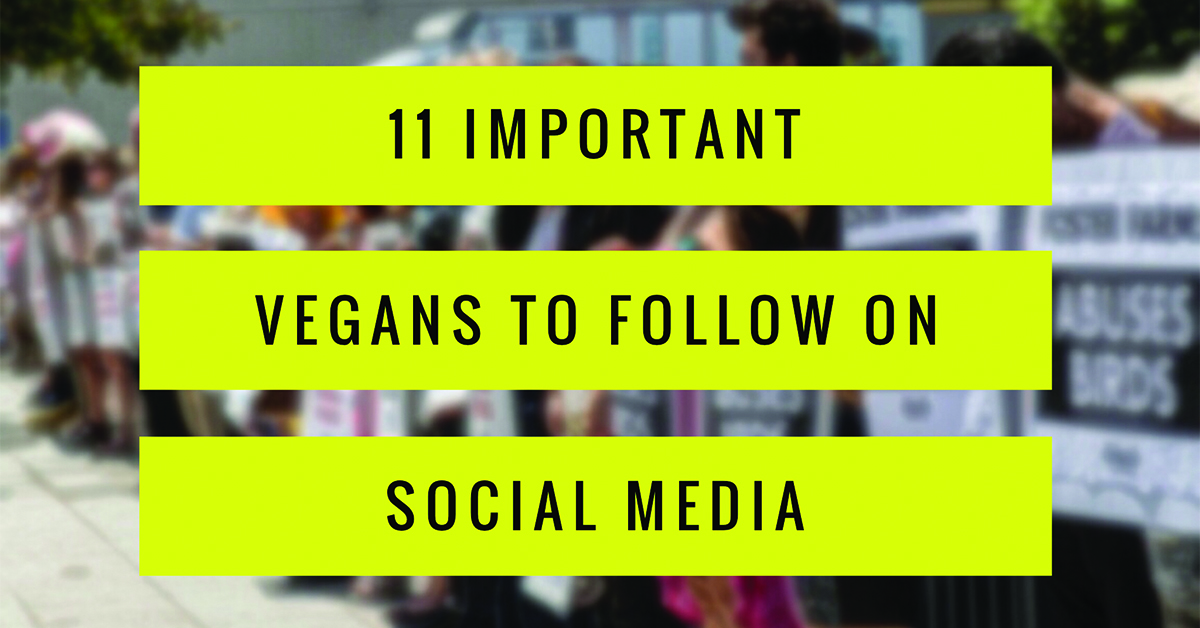 We are the sum of the people we surround ourselves with. This includes social media.
Who we look to informs what we're capable of and what we believe is possible.
If you're following the motherfuckers on this list, you will begin to see how widespread vegan world domination is these days.
And you're effectiveness in advocating for animals to friends, family, and acquaintances will begin to skyrocket as well.
Paul Shapiro
Phil became friends with Paul while volunteering on the Ohioans for Humane Farms Campaign in 2010.
Paul founded Compassion Over Killing in 1995, and is now Vice President of Policy at HSUS.
This man has been in the trenches for decades. He started as a crazy motherfucker with a chain wallet and megaphone on top of a McDonald's. Now he runs shit for animals.
We were scheduled to speak after him at an event in 2016. It started raining. Then hailing. All during his talk.
He stayed up there inspiring the crowd until security made him go inside for safety concerns. LOL! Paul's not fucking around!
Following him will put you in the know about all the most important news for farm animals.
Eddie Garza
Phil became friends with Eddie in early 2011 when Phil became National Campaign Coordinator at Mercy For Animals.
Eddie has risen to fame and become the leading figure in the movement to reform food systems in Latino communities. Becoming a regular on some of the largest tv shows in the world.
Following him on social media will let you into his world as he hob knobs with celebs and does media interviews all the fucking time.
We're going to his VIP event in LA next week. Yes, we're bragging.
Lewis Bollard
We both became friends with Lewis at the Animal Rights Conference in 2013, and instantly, we were like, "Holy fucking shit, this guy is smart as balls!"
And he is. He completed his undergrad at Harvard, and got his law degree from Yale.
Since then he's worked as Policy Advisor & International Liaison to the CEO at HSUS. And he now works as the Program Officer of Farm Animal Welfare at Open Philanthropy Project.
He rarely posts. But when he does post, it's usually to announce that a fuck ton of money is being donated to one of the most effective charities in the world.
Deanne Thomsen
Phil became friends with Deanne at the Animal Rights Conference in 2011. Deanne is Faith Outreach Manager at HSUS.
She loves Jesus. And she's vegan as fuck. She effortlessly spreads the Jesus-loves-animals vibe everywhere she goes.
She will be the SoCal Campaign Manager for the absolute most important campaign happening for animals that will be launching next month.
The Prevent Cruelty California Campaign. We will have 180 days to collect approximately 1/2 million signatures to get an important initiative on the ballot that will have a massive impact.
Following her on Facebook and Instagram will let you into all of her adventures and put you in the know about any advancements related to the most important campaign for animals.
NOTE: Her Facebook and Instagram pages are private, though. And she'll only accept you if you send a nice message.  🙂
Nathan Runkle
Nathan is the President and Founder of Mercy For Animals.
Phil met Nathan at the Their Lives, Our Voice Conference in 2010. But they didn't become friends until early 2011 when Nathan hired Phil as National Campaign Coordinator at Mercy For Animals.
Working at Mercy For Animals was a life-changing experience for Phil. And he wouldn't even be close to the person he is today without Nathan.
Nathan is probably the most innovative change marker in the vegan advocacy game. He's creative and has taken effectiveness for animals to new heights.
Following him on Facebook and Instagram will let into his world as he begins to get more personal on social media.
Michelle Cho
Phil first learned who Michelle was in late 2013 when he asked Paul Shapiro, "who the fuck is the genius at HSUS who gifted Beyonce and Jay-Z a gift card to that fancy vegan restaurant in NYC?"
It was Michelle. And her creative gesture garnered continued mainstream media attention surrounding two of the most powerful people in the world eating vegan.
Michelle is Vice President of Celebrity and Entertainment Outreach at HSUS.
Following Michelle will let you into her world as she posts about shares about her day, succcesses of HSUS, and sometimes posts photos of the celebs she hangs with.
John Oberg
Phil met John while touring with the Humane League and Vegan Outreach during the Warped Tour in 2010. Since then John has worked at Vegan Outreach and is now Director of New Media at the Humane League.
He's been our roommate in LA since January and has gotten in the best shape of his life, already squatting 340×5.
John leads by example showing how to be an effective vegan advocate on his personal social media accounts.
Carrie Leblanc
Phil became friends with Carrie at the Animal Rights Conference in 2011. They briefly worked together at Mercy For Animals. And now Carrie is the President and Executive Director of CompassionWorks International, where Matt serves on her advisory board.
We both typically focus our attention on farm animal issues. But Carrie is the exception. She's been a massive supporter of Vegan Bros, and she's helped us to see things from a different perspective.
Following her will let you into the inside of the things happening in the fight to end animal cruelty in the circus, trophy hunting, and other industries.
Victor Sjodin
Phil was 22 and still didn't know how to hold a basic conversation with another person. Then Phil met Vic.
Vic took Phil on the road to hand out Vegan Outreach leaflets on college campuses around the country.
From there Phil:
completed 9 nationwide tours on behalf of the leading vegan advocacy organizations
handed out hundreds of thousands of leaflets on college campuses
organized hundreds of pro-vegan and pro-farm animal protests
was interviewed on hundreds of mainstream media outlets
Vegan Bros signed a book deal with world's largest publisher
Dagen McDowell announced on FOX NEWS she went vegan because of Vegan Bros
Vegan Bros have hosted parties and raised thousands of dollars for our favorite non-profits
-etc. etc. etc.
And now Phil knows how to talk to people as well. LOL!
Without Vic, none of this shit would have been possible. Following Vic will let you into the world of the Vegan Bros favorite activist, and one of our best friends.
Vic recently launched a vegan apparel company you can follow as well: https://www.instagram.com/veganthatsright/
Josh Balk
Phil didn't become friends with Josh until 2012. Josh is the co-founder of Hampton Creek Foods and the Vice President of Farm Animal Protection at HSUS.
Both Matt and Phil have been endlessly inspired by Josh's massive vision, insane work ethic, and addictive positivity.
Following Josh will let you inside the work of the Farm Animal Protection Campaign at HSUS. He posts about successes of his crew at HSUS- Farm Animal Protection all the time!
Bruce Friedrich
Phil first learned about Bruce in 2007 or 2008 when he came across his "Veganism in a Nutshell" audio recording on a Myspace page.
But Bruce was still Director of Vegan Campaigns at PETA when Phil met him in 2010 at the Humane League Gala.
Now, as the Co-founder of New Crop Capital, and the Executive Director of The Good Food Institute, following Bruce will put you in the know about all things related to advancements being made in the "future-of-food."
---
And click here to download our ebook FREE