26 Vegan Entrepreneurs Changing the World For Animals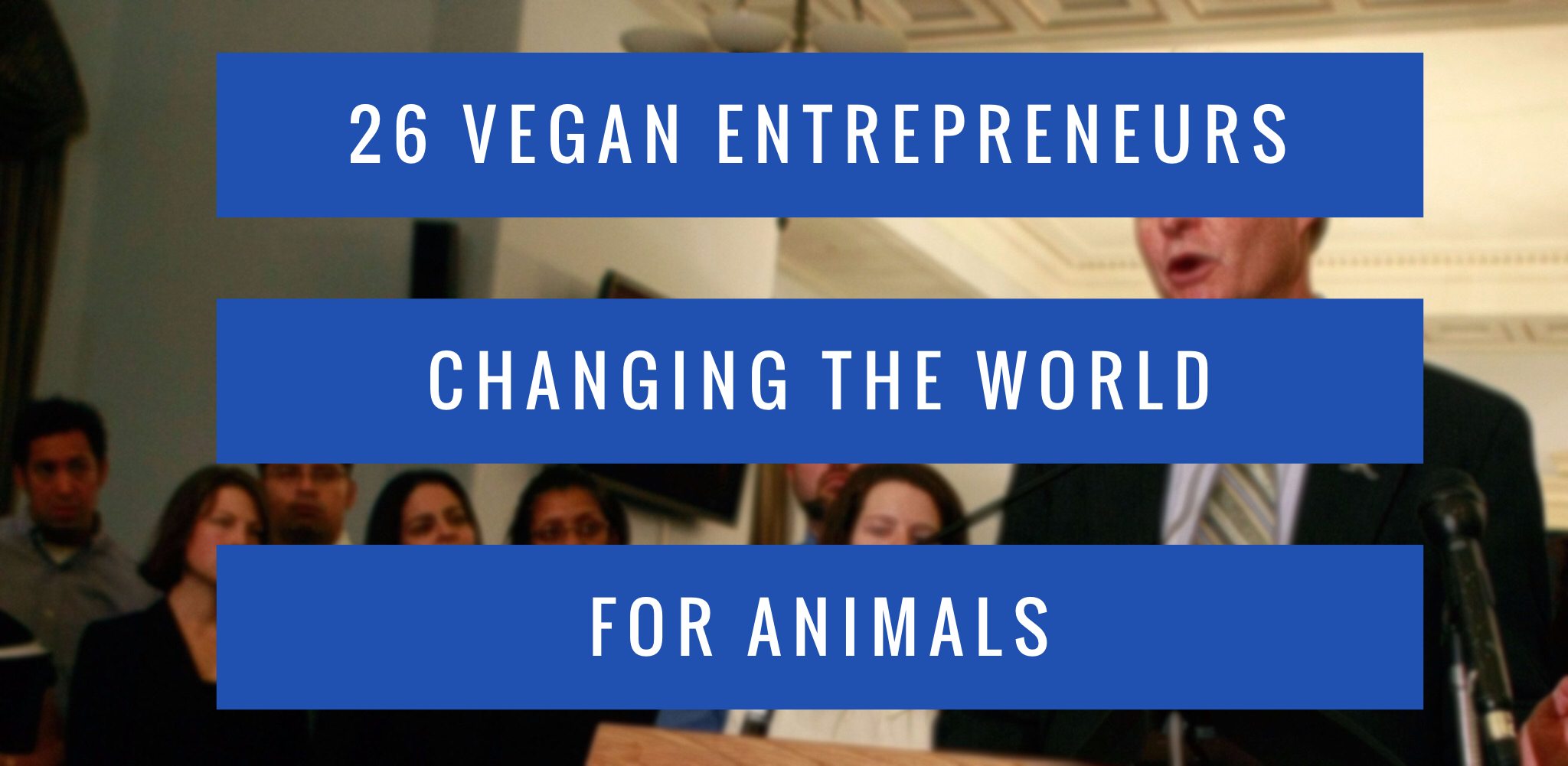 One way to be a vegan advocate is to educate and inform the public.


Phil did it for 4-years when he lived out of a car, and slept on a new stranger's floor every night. And we both still do it from time-to-time.
But we've entered a new age of vegan activism.
Do you want to maximize your impact?
It's time to get creative and make a fuck ton of money. The entrepreneurs on this list are showing us how to take effectiveness for animals to the stratosphere.
Starting a successful business gives you the ability to live a lifestyle people aspire to.
It also gives you the ability to cut massive checks to effective organizations like Mercy For Animals, HSUS- Farm Animal Protection, and the Humane League.
And if it's an innovative vegan business? Well then the business itself is probably saving hundreds of thousands of animals per year.
The motherfuckers on this list leave us inspired as fuck!
Ethan Brown
We met Ethan at Expo West down in Anaheim last spring.
This dude doesn't "hope" things change, he makes sure of it.
And that's what he's doing as CEO of his company, Beyond Meat.
Their newest product, the Beyond Burger is some straight up insanity.

Fooling meat-eaters left-and-right with the taste and texture that resembles a burger from a cow.

Investors include Leonardo Dicaprio, Biz Stone, Bill Gates, and fucking TYSON FOODS.
Tyson Foods has abused more animals than almost anything that's ever existed. Ethan got that company to invest in and work toward a vegan future.
Ethan is veganizing the fucking meat industry! LOL! That's some crazy ass shit.
We were honored to be invited in for a tour of their facility and to do some taste testing with the Beyond Burger a few months ago.
Thank you, Ethan and everyone at Beyond Meat for everything you guys are doing to change the world for animals!
Dr. Uma Valeti

Neither of us have met Dr. Valeti yet. But we know about his company, Memphis Meats, through our friend, David Kay, who is Business Analyst there.

Memphis Meats is a startup backed by Bill Gates and Richard Branson.

The goal of Memphis Meats is "to change the way meat gets to your plate. We're developing a way to produce real meat from animal cells, without the need to feed, breed and slaughter actual animals."

Damn! Get that shit!
Alexis Fox & Micah Risk
We became friends with Alexis after meeting her at a Brave Gentleman pop-up in LA in 2015.
And although we already felt like best friends with Micah, we didn't meet her in person until a few weeks ago at Mercy For Animals 2017 Gala.
Micah, aside from being an inspiring entrepreneur, is a long-distance runner, and has been featured on the cover or Runner's Magazine.
These women are a bomb ass duo.
You know when you go into the kitchen, think about breakfast or dinner, and you're like, "what the fuck do I make?" They decided to solve that problem forever.
They have set their sites on simplifying and streamlining meal planning and ingredients with technology at their company, Lighter. Affordable healthy meal planning will be effortless.
Josh Tetrick and Josh Balk
Phil remembers hearing about Hampton Creek Foods years ago before the company had launched any products. He didn't really know too much about it at the time.
But our friend, Josh Balk, was a part of it. So he knew the company had a goal to help a MASSIVE number of animals.
The company has achieved so much success they were sued by Unilever, parent company of Hellman's Mayonaise. The lawsuit claimed Hampton Creek couldn't call their mayo "mayo," since there's no egg in it.
Unilever swiftly dropped the lawsuit, and then came out with their own vegan mayo. LOL!
Changing the game!
These guys have gotten financial backing and support from some of the wealthiest and most forward-thinking people in the world, and they know exactly what the fuck they're doing.
Hampton Creek is currently valued at over a billion dollars. And they also hold the designation as having the best caesar dressing in the history of mankind.
Florian & Shannon Radke
We first got connected with Florian and Shannon when Florian enrolled in our Ultimate Vegan Fat Loss Course.
He got in amazing shape! And he's also turned into a mentor of ours, offering his expert advice when we need it.
Florian and Shannon have been on Shark Tank, worked with companies like Nike and Heineken, advise up and coming silicon valley startups.
And they just so happened to start the most amazing cinnamon roll chain in all of the world, Cinnaholic. And it's 100% vegan.


John Lewis- AKA Bad Ass Vegan
Phil became friends with John, AKA Bad Ass Vegan, at a protest Phil organized in Fort Lauderdale when he worked at Mercy For Animals.
After the protest, our friend Vic said, "I think John may be the most charismatic man I've ever met."
John rose up out of Ferguson, MO. And now he's taking over the world.
He's on a "mission to address diet-related diseases in underserved communities through education and offering plant-based solutions."
Inspiring as fuck! And prepare for this man to blow the fuck up even more over these next few years.
He's the king of motivation. And we love watching all the shit he's doing with Vegan Smart, a plant-based protein shake company!
We love having this man as spokesperson for the cause. And we look forward to his influence over the world rising.
Get it, John!
Leanne Mai-ly Hilgart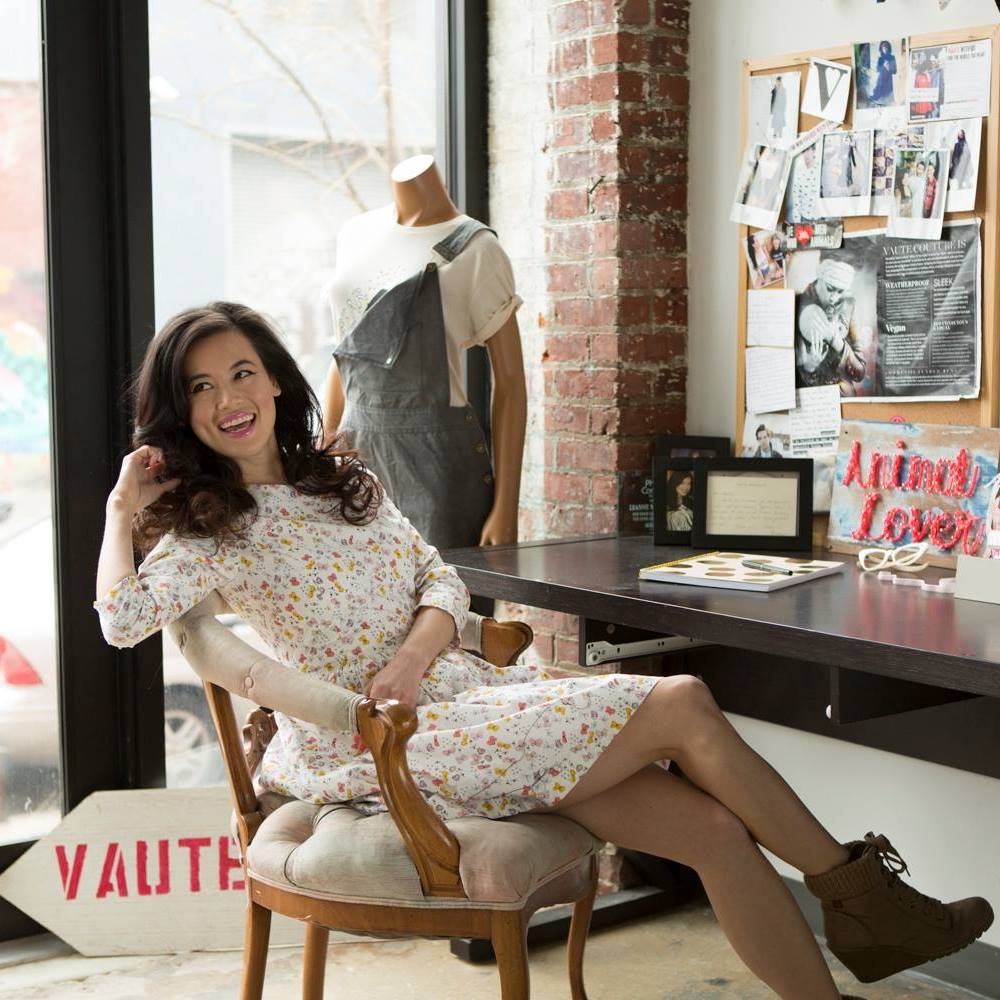 In early 2011 when Phil was working at Mercy For Animals, Nathan Runkle passed down a green pea coat to him.
Phil loved it, and got complimented on it all the time. It was from Vaute. And Leanne is the founder.
We love when entrepreneurs go into industries and don't just to try to fit in, but try to level up the entire game and stand out.
Vaute is making some big waves in the high-end fashion world. And they're doing some amazing things with new cruelty-free shit.
Recently, Leanne opened up investment into her company as she aims to expand her wholesale business, allowing for her cruelty-free fashion line to be gobbled up by the masses.

John Mackey
Matt first had the privilege of meeting Mr. Mackey in Boulder, Colorado while he was on a quest to find a case of Beyond Burgers for a family barbecue. Matt ran into Mr. Mackey at the Whole Foods flagship store.
And we both crossed paths him recently at a conference here in California.
Mr. Mackey is the founder and CEO of Whole Foods. And plain and simple, he's saved a fuck ton of animals.
You want to find a person to blame the abundance of vegan food readily available on? Blame it on this man.
We look up to him in a massive way for that, and for the overwhelming success he's had as an entrepreneur.
He's probably the highest level vegan activist we know of, essentially turning Whole Foods into somewhat of an incubator for fledgling plant-based food startups.
Our favorite quote of his in his New York Time bestselling book, Conscious Capitalism is:
"Decades from now we will no doubt look back on many practices that are commonplace today, such as treatment of livestock animals, in disbelief."
We agree.
Caroline Love
We became friends with Caroline at Expo West when she was Director of Corporate Partnerships and later promoted to VP of Mission at Hampton Creek Foods.
While at Hampton Creek she took them from an idea, to having their mayo, dressings, and cookies readily available nationwide at almost every notable grocery chain, including Whole Foods and Safeway.
She's just recently stepped out on her own, as a consultant. In the language of "Bro," Caroline's mission and goal is "blowing up plant-based companies for the vegan world takeover."
Tal Ronen
While we are friends with the self-proclaimed mayor of one of LA's most popular restaurants, Toby Morse. We haven't met the founder and head chef yet.
But we have met his food, and it's delicious.
Tal Ronen is the founder and head chef of Crossroads Kitchen. Oprah calls him "the best vegan chef in America."
Crossroads Kitchen is taking veganism to the upper echelon of our society. It's celebrity as fuck up in that restaurant.
Amazing!
Constantin Le Fou
We became friends with Constantin at a Los Angeles Animal Save event where we bared witness to the pigs as they entered the slaughterhouse.
Art is Constantin's method of changing the world. He's most notably become known for his "Vegan Club" project, where he brought massive celebrities, who are not known for being vegan, front-and-center as vegan advocates.
Fucking genius!
We've since formed a friendship with him and actually just went out to eat with him at Crossroads a couple weeks ago. We predict that he will be blowing the fuck up in the coming years.
Watch the fuck out!
T.K. Pillan and Kevin Boylan
Two more people we look forward to meeting in the future.
Though, honestly, we feel like we know them pretty well already. I mean, we do eat at Veggie Grill at minimum 3 times per week. 
TK and Kevin are the co-founders of Veggie Grill
Veggie Grill is a restaurant chain based in LA that has quickly and dominantly taken over the west coast.
With a recent multi-million dollar influx of funding, they are now plotting their takeover of the rest of the country. With Chicago as their first target.
If you want someone to see how cool and delicious vegan is, you take those motherfuckers to Veggie Grill! And they are always amazed!
We're excited for their future success with their new company, Powerplant Ventures, where they're investing in and helping grow plant-based concepts into massive, successful brands.
Asher Brown
We became friends with Asher immediately after moving to LA last January.
He runs Pollution Studios, a creative studio in LA, where he produces and directs films, tv shows and music videos, hosts parties, and plots vegan world domination.
He's worked with huge bands, actors, and also companies and organizations like Veggie Grill, Beyond Meat, Farm Sanctuary, and Gardein.
He's down as fuck with the cause. And if you run a vegan company or brand he will almost surely jump at the opportunity to work with you.
Also, we may begin to dabble in some more creative YouTube videos with him coming up here.
Prepare to see the vegan advocacy game continue to change, motherfuckers!
Jack and Suzy Welch
These are two of our favorite people who we still haven't met in person.
Suzy is the former Editor-In-Chief of Harvard Business Review, New York Times bestselling author, and currently serves as a Business Contributor on CNBC and NBC.
Jack is one of the most iconic executives in modern history, serving as CEO of GE from 1981 to 2001. During his time at GE, he grew the company 4,000%.
Together they're an unstoppable force for vegan world domination. We're not totally sure whether Jack is totally vegan or not. But we're excited about everything they do.
Not only do they donate huge to the likes of Mercy For Animals and HSUS, and invest in plant-based companies like Memphis Meats. They've also hosted multiple fundraisers at their house to raise hundreds of thousands of dollars for Mercy For Animals.
Amazing!
Bill Maris and Tristan Prettyman
We've not yet met Bill and Tristan, but they also inspire the fuck out of us.
Tristan hit spot 24 on the Billboard 200 music charts as part of her ongoing career as a singer-songwriter.
She's also now followed her passion into holistic health and integrative nutrition as a plant-based health coach. And we see her amazing food in our feeds all the time.
Bill is the founder and former CEO of Google Ventures, Google's 3 billion dollar venture capital fund. And he was an early investor in Uber and Impossible Foods.
Recently Bill started a new venture capital fund, Section 32, where he invests in companies and inventors changing the way humans use technology and the way technology betters humanity.
Liz Dee and Nick Garin
We met Nick at Expo West here in Southern California earlier this year and got to see both Liz and Nick a few weeks ago at the Mercy For Animals Gala.
Another power couple, to say the least.
Nick has a background in healthcare and managing data. And Liz is the Co-Owner and Executive Vice President of Smarties Candy Company. Yes, those smarties.
They teamed up to form Balene and Bjorn Capital, and they're now also investing concepts like Memphis Meats, Purple Carrot, and Lighter.
Instead of hoping vegan world domination would maybe happen at some point, they're on the front lines, taking the risks and laying the foundations every day. And they're making vegan world domination come true.
Chloe Coscarelli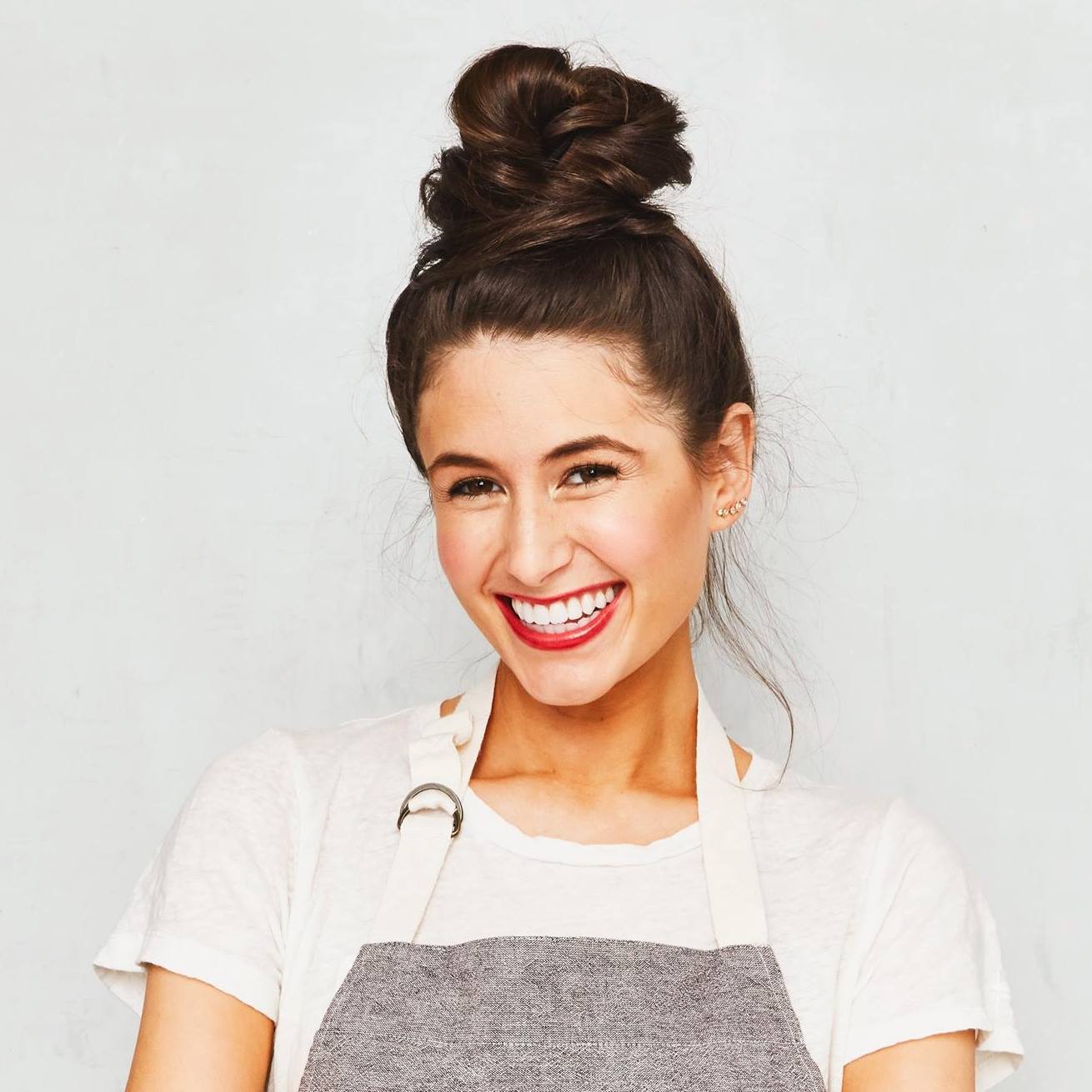 Forbes 30 under 30, winner of Cupcake Wars on Food Network, 3 bestselling cookbooks, loads of tv appearances, and a new cookbook on the way.
We guess you could say Chloe is crushing the motherfucking game. And the animals are benefiting hugely from it. If you haven't tried any of her recipes, you're being weird! Stop that.
She's clearly poised for further vegan world takeover, and we can't wait to see what else she's got up her sleeve.
Craig Cochran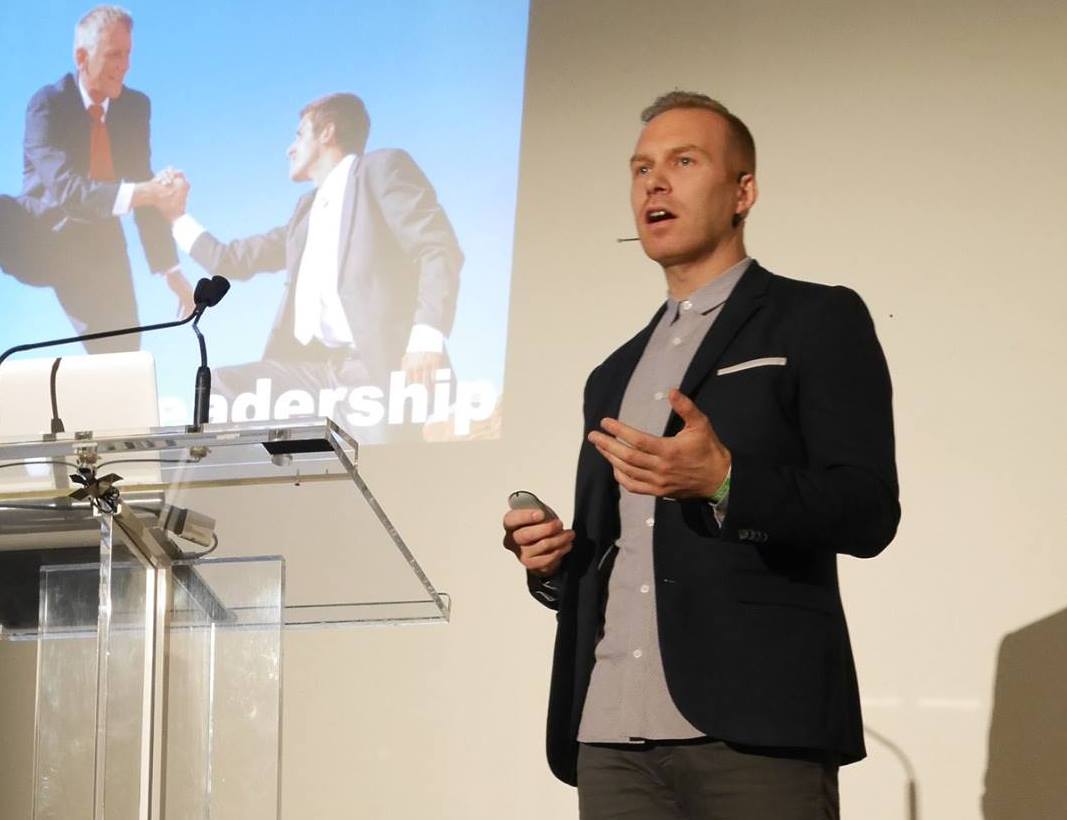 Craig is one of those people we haven't yet met, but we feel like we're already bff.
Dude is straight up building a legit vegan restaurant empire based in NYC. He's opened 3 locations of his quick-service restaurant, Terri.
But just recently Craig opened up a brand new high-end plant-based concept called, PS Kitchen. 100% of profits go to charitable causes Craig and his team believe in. Plus, the vibe in there looks sick!
Craig keeps grinding. And we see much bigger things on the horizon
Dominick Thompson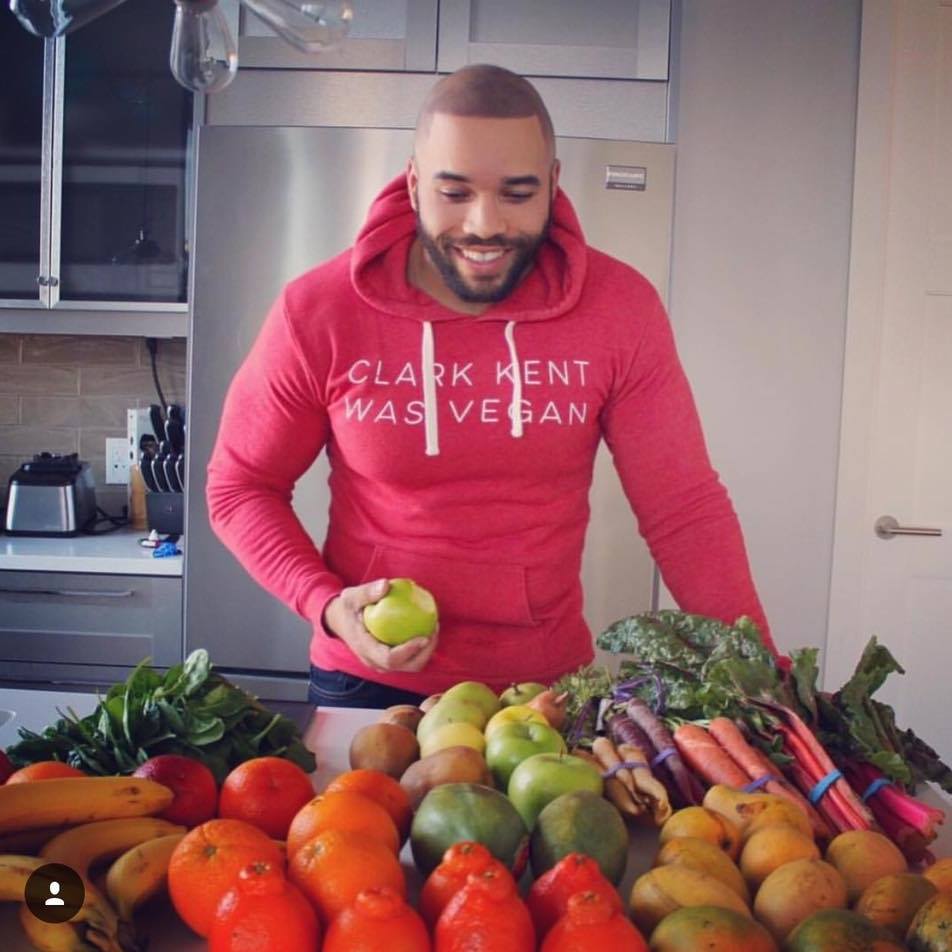 We met Dominick while in Las Vegas last year for an event we were booked to speak at.
Every now and then there's a story that particularly catches your attention. Dominick grew up in Chicago and was in a gang at 19.
He spent time in federal prison. And it was there he turned things around. He read over 30 books and gained a new outlook on life.
Now he's a plant-based athlete and runs his own apparel line, Crazies and Weirdos. Dominick shows us what hard work, determination, and being jacked as fuck does. It saves the fucking animals faster.
---
Over 25,000 vegans are already signed up for our FREE 4-part video course teaching how we inspire our anti-vegan friends, family, and acquaintances to go vegan.
But we're closing it down soon. To receive instant access head here: